Auto Archive Feature Missing in Outlook 2010, 2007 – Reasons & Solutions
admin | October 17th, 2017 | Windows Outlook
Auto Archive Feature Missing in Outlook? Know the Solution is Here
Is your Auto Archive option not available in Outlook 2010? Do you know why this happens and what to do when the Auto Archive feature missing in Outlook 2010 or 2007?
Let's us know about this feature in brief, before proceeding ahead.
Auto Archive is a feature of Microsoft Outlook which is used for managing the space of mailbox that you have been currently employing. An autoarchive facility can be employed for moving mailboxes to the original location to archive location or backup or deleted items from Outlook. The location of an archive file is completely reliable and dependent on the Operating System you are using. In the blog, we will come across the reasons and ways to tackle the problem and get the solution of it. Before going to the solutions to fix the Auto Archive Feature not working in Outlook 2007 issue, let's first discuss the reasons why does Auto Archive not work in MS Outlook.
Reasons Behind Missing Auto Archive Feature in Microsoft Outlook 2010
There might be few possible reasons why an Auto Archive Feature Missing in Outlook 2007 and 2010:

Admin Disabled Auto Archive: In case of AutoArchive Feature is displayed by the corporate admin through corporate policy for preventing the spread of mailbox data is stored in systems connected to a same network.

Online Archive via Exchange Server 2010: In case the Online Archive has been enabled with MS Exchange 2016/2013/2010 or Office 365 account and then the client-side archiving alternatives are disabled by Outlook & archiving can be performed on Exchange Mailbox.

After Providing Update on Microsoft 2007: The Auto Archive option can be easily removed and updated KB2412171 on Microsoft 2007.

The very first question once understood the AutoArchive Facility arises like where do the items go?
The archive file is an Outlook Data File (.pst). The very first time, Auto Archive Feature runs, the archive files can be automatically created. In case the files are created, and it depends on Operating System that you have employed in your machine.

In Windows 7: C:\Users\YourUserName\Documents\Outlook Files\archive.pst

In Windows XP: C:\Documents and Settings\YourUserName \Local Settings\Application Data\Microsoft\Outlook\Archive.pst
In case some of the folders are hidden, for displaying the hidden folder in Windows, perform the following steps:
Tap Start button, and click on Control Panel.
Afterwards, select Folder Options.
For locating the Folder Options, in search box at top of Windows, type the Folder Option.
Then, in the Windows XP control panel, type Folder Option in Address box.
Afterwards, on View tab, select Advance setting list present under Files & Folders in the Hidden Files and Folders.
Opt for the Show Hidden Files/Folders/Drives and then permanently delete items that have crossed the aging period.
Aging Period of MS Outlook Items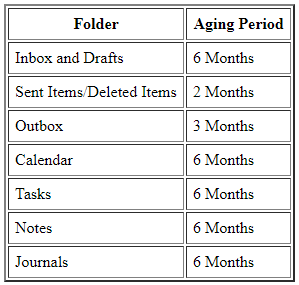 Determining the Age of Items

Solution to Remove Auto Archive Feature Missing in Outlook 2010 Problem
Uninstall and Update KB2412171
In case you are employing Microsoft Outlook and the Auto Archive option missing in Outlook 2007 due to the update of KB2412171 on Microsoft 2007 and then users can eve remove the updates by completely following the steps mentioned beneath:
First of all, open the Control Panel and then click on Add/Remove Programs
Afterwards, click on the option to View Installed Updates.
Finally, select an update MS Office(KB2412171) and then uninstall it.
If in case the users are not able to complete able to remove an update from the control panel and then you can perform system restore or you can easily uninstall MS Office 2007 and then install it again and then apply all the updates except the Update for MS Office (KB2412171).
Connect with Admin Regarding the Group Policies
In case the Auto Archive Feature is disabled by Mail Admin, and you can even ask the mail admin/manager regarding Group Policy via archiving function is enabled from MS Outlook users and they get the authentication for archiving data. Additionally, EDB Admin can be defined in the place and how long it can remain.
Automatically Archive Facility via Archive Policy in Outlook
For instance, an Online Archive with Exchange Server 2010, auto-archiving facility can be performed by Outlook through Archive Policies.
The users can easily find Assign Policy alternative by pressing Home tab. While using the feature, the users can archive the specific item or entire folder; selected items can be automatically moved to Online Archive. MS Outlook 2007 and the earlier editions can assign the policy of Outlook Web Application.
The Final Note
The above-written article discussed why the Auto Archive option not available in Outlook 2010 along with some solutions to move out from this problematic scenario. We can also say that in case the AutoArchive Facility is completely missing in Outlook because of the reasons like Online Archiving or due to the update for MS Office (KB2412171) and the users can completely get rid of Auto Archive Feature Missing in Outlook 2010 issue.