Fix "Outlook 2010 Not Receiving Emails from Specific Sender" Issue
admin | October 26th, 2017 | Windows Outlook
"Outlook 2010 Not Receiving Emails from Specific Sender" – Know How to Rectify the Error
Outlook 2010 not receiving emails from a specific sender is a new problem encountered by the Microsoft users. As the error is very complex to resolve, so most users directly contact ISP provider for troubleshooting. Therefore, considering users queries in mind, all possible workarounds to settle this "Microsoft Outlook 2010 not receiving emails from specific address" error is discussed in the below section.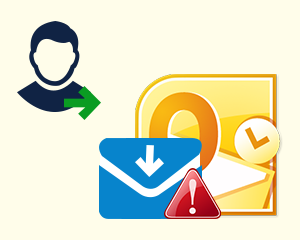 Tips & Tricks to Fix "Outlook 2010 Not Receiving Emails from Specific Sender"
Tip 1: Check Email in Junk Email Folder
Sometimes, it might happen that MS Outlook marks the email as a spam and move it directly to the junk email folder. Therefore, if the email is sent many times from a particular address and it is not received by the user in the inbox, then it has been sent to Junk Email Folder. Hence, the very first step is to check the email in this folder and confirm that sender is marked as spam or not.
Tip 2: Verify the Integration of Anti-spam Tool
Another possible reason that a user is not receiving emails from a specific sender is that a virus scanner or an anti-spam program is integrated with Outlook. Now, to make sure that virus scanner or anti-virus software is causing an issue, turn off it for some time and then ask the sender to send the email again. If it works perfectly, then the problem is with the anti-spam tool that a user has installed. Therefore, it is advised to disable the virus scanner, which is integrated with Outlook.
Tip 3: Confirm the Email Arrival on Other Devices
Sometimes users configured the same account on multiple devices, for example, laptop, tablet, smartphone etc. So, a user is suggested to make sure that the email message is received by all other devices or not. If it is received in the inbox folder of the other devices, then it is very much clear that issue is associated with a current profile. Therefore, to resolve such an error, creating a new profile is always helpful. Moreover, if a user is using the POP3 account, then always enable leave a copy on the server option. This will allow all other devices to successfully collect the emails.
Tip 4: Check Email Arrival in the Other Folders
In some cases, there are multiple rules applied while sending or receiving any email due to which some emails are moved to a different folder. Thus, a user must check all subfolders to make sure that message of that address is not moved to any other folder. A user can delete all rules and check if the problem continues.
Tip 5: Verify the List of Blocked Senders
Another way to troubleshoot this "Outlook 2010 Not Receiving Emails from Specific Sender" error is to always ensure that a user has not moved the sender to the Blocked Sender List. In order to confirm that the email address is not in Block sender list out, follow the steps given below:

Outlook 2007:
Go to the Tools menu and click on Options.
Now, go to the Preference tab >> Junk E-mail tab.
After that, click on the Blocked Senders tab.
Outlook 2010 and 2013:
First of all, go to the Home tab >> Click on the Junk option.
After that, click on the Junk E-mail Options….
Then, click on the Blocked Senders tab.
Here, you can check if the email address is added to the block list or not. If yes, choose it and click on the Remove button.
Tip 6: Ask Sender to Confirm the Email in Outbox
It might also possible that the size of the message is large and the server timeout is small, in such cases, there are chances that the message remains stuck in the outbox and does not receive by the desired receiver. Or another reason of such an error MS Outlook 2010 Not Receiving Emails from One Sender could be that there is some issue in SMTP authentication or issues with the outgoing mail server.
Tip 7: Advice Sender to Verify the NDR Mail
There are chances that a user is sending an email message to a wrong or incorrect email address. In such situations, email is bounced back and a Non-Delivery Report (NDR) is received by the sender. However, these NDR messages contain lots of additional information that will make users understand, why the message wasn't delivered such as:
Mailbox Full: It means that the sender mailbox is almost full due to which no new message is received.
Incorrect Email Address: If the email address entered by the sender is incorrect, then also email is bounced back.
The Server on the Black List: It might also be possible that the sending mail server is added to the blacklist.
Message is Delayed: This shows network issues, DNS configuration problem, or an incorrect domain name is entered.
The above-discussed tips will definitely solve the Outlook 2010 not receiving emails from specific sender. However, after trying these tips & tricks, users still encounter the same error, then, it is advised to use some third-party tool to solve the issue permanently.