What to Do When Outlook 2016 Keeps Corrupting Profile?
admin | November 10th, 2017 | Windows Outlook
Troubleshooting the Issue
There are many queries mentioned on blogs and post regarding Microsoft Outlook and related errors and issues. A peculiar problem was mentioned by a user a few months back regarding Outlook profile corruption. When he tried to delete and recreate the profile, in a few months the profile gets corrupted again. Outlook 2016 keeps corrupting profile each time it is deleted and recreated. This can be quite cumbersome for any user, especially in a business environment where constant communication is essential. If daily reports and schedule are not sent or received, it can affect smooth working in an organization. This post describes all the steps necessary to perform repair procedure on Outlook client. Follow the steps to recover mailbox data easily.
Quick Glance at the Outlook Profile Keeps Corrupting Issue
When the user tried to fix the corruption by recreating the profile, error messages were displayed one after the other. Following shows the message boxes that were generated every few months the Outlook profile was created: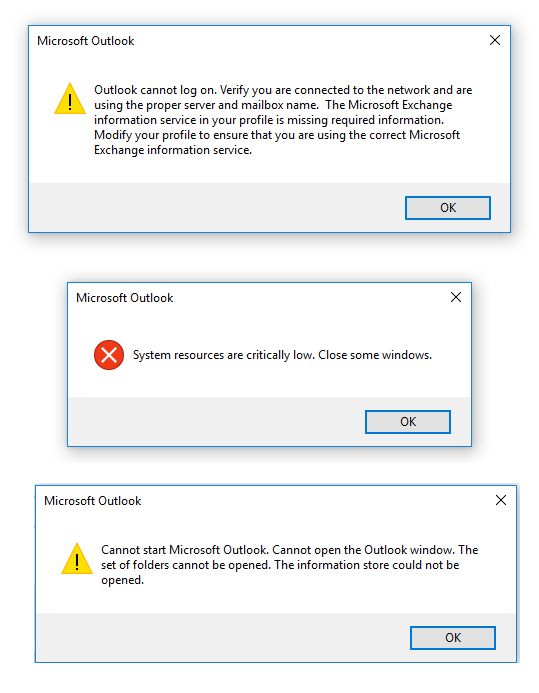 The individual tried to reinstall Office, run all service packs, scan the drive and disable all add-ons. He also updated the Alienware bios and all its drivers to fix corrupt Outlook profile but nothing worked. He added that the system is far from being low on resources as the second message box suggested. Restarting Outlook and system was also tried but to no avail.
Some Common Outlook Profile Issues
Following are a list of some of the very common errors and issues found with Outlook profile:
Microsoft Outlook Inbox Repair Tool does not recognize the file.
PST file corruption causing Outlook to hang or freeze.
Outlook Profile Keeps Corrupting every few months.
Cannot Start Microsoft Outlook. Cannot open the Outlook window.
Corrupt Outlook profile causing the application to get stuck all of a sudden
Methods to Fix Outlook 2016 Keeps Corrupting Profile
Corruption problem is very common in Microsoft Outlook application and can cause serious problems. The damaged PST file will result in performance problems while using the application and mailbox data will also become inaccessible. You can use the SysTools PST file recovery tool to remove corruption from PST files and export it again in an intact format.
Here are the steps that need to be followed correctly in order to ensure that the error messages don't appear:
Solution 1: Repair Corrupt Outlook Profile
In MS Outlook 2007:
First, open the email application and go to Tools >> Account Settings.
From the Email tab, choose the account which gets corrupted.
Then, click on the Repair button from the mini toolbar.
Follow the steps in the wizard and then, restart Outlook.
To Repair Corrupt Profile Outlook 2010, 2013, 2016:
First, launch the email client and go to File >> Account Settings >> Account Settings.
From the Account Settings dialogue box, go to Email tab and select the corrupted profile.
Then, click on the Repair button.
Follow the steps in the wizard and restart Outlook when done.
Solution 2: Use the Inbox Repair Tool
This is an inbuilt recovery method provided by Microsoft to remove any minor corruptions or errors. It can recover any recently deleted, lost or missing mailbox items from a PST file. It can help with the Outlook profile keeps corrupting issue. This tool is found in the Mail folder by the name SCANPST.EXE. It can be easily searched in C:/Program Files by its name and run on Windows PC.
Advantages of Using SCANPST Tool When Outlook 2016 Keeps Corrupting Profile
Free of Cost: It comes with Outlook installation and fixes PST at no extra cost to customer or company.
Fixes Minor Issues: This method can repair any minor issues in PST file and enlist errors. This includes the issue where the Outlook 2016 profile keeps getting corrupted.
Recover Missing or Deleted Mailbox Items: After the scanning, tool reports about the recently deleted or missing items that are recovered. It recovers complete mailbox items including emails with attachments, contacts, calendar, notes, journal items etc.
Enlist Email Folders: All the Lost and Missing Folders are displayed on the left panel on the Outlook application. Simply drag and drop items to Inbox folder to save them to the current profile.
Disadvantages of Repairing Outlook Profile Manually
Data Integrity Not Ensured: The tool does not guarantee that email folder hierarchy or formatting will be the same after recovery.
Limited to Minor Corruption: The Inbox Repair Tool can not be used for any high-level corruption causing 'Outlook profile getting corrupted' issue.
Cannot Work with Password Protected Files: The tool is designed to fix PST files without any passwords. If the password is not known then, third-party tools need to be used to recover Outlook profile.
Not for Permanently Deleted Emails: The Inbox Repair Tool cannot recover any permanently deleted messages or other mailbox items.
Conclusion
Microsoft provides multiple options to fix corruption in Outlook profile. If all else fails, one can try the forums and blogs to post their issue. In here, one can learn to manually fix Outlook 2016 keeps corrupting profile issue. These are easy and simple steps when followed correctly can repair any problem efficiently.