Resolve 'Outlook Can't Send Emails After Upgrading to Windows 10' Error
admin | November 29th, 2017 | Windows Outlook
Know How to Fix the Error – Outlook Can't Send Emails After Upgrading to Windows 10 Easily
" I have just upgraded my operating system from Windows 8 to Win 10 and now, I am unable to send messages from Outlook. I have checked all the mail server setting and all are correct. The test message activity result was also successful. The error I encountered is 'Outlook can't send emails after upgrading to Windows 10'. Don't know what actually the problem is? Can anyone assist me with this issue?"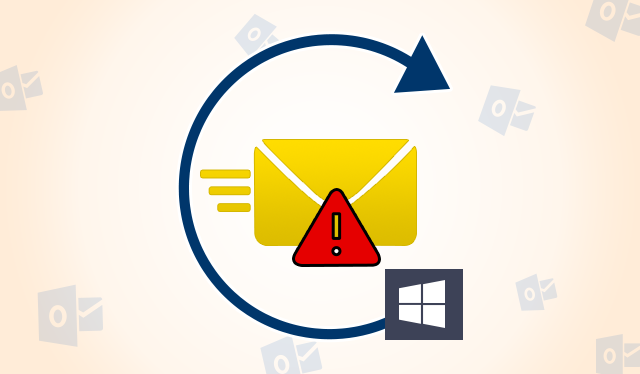 Alike the above query, several users have reported their problems where they are unable to send messages from Outlook on Microsoft Windows 10. This problem seems to affect the various editions of Outlook. So, a couple of measures are researched to fix this issue. Users can apply them and try to fix their problem.
Outlook Can't Send Emails After Upgrading to Windows 10 –
Know How to Troubleshoot the Error
Go through the following solutions to know how to resolve the error:
Solution #1: Using System File Checker
To restore the problem, users need to run Microsoft Windows Resource checker software, which is also called System File Checker (SFC). This application scan and verified the overall integrity of the protected system folders and files and modifies the wrong edition with the correct one.
Right-click on Start button of Windows 10 and select Command Prompt (Admin) option.

Note: If this option does not appears then, click on Windows PowerShell (Admin).

Type sfc /scannow and press Enter key.

Wait for the while until-and-unless the procedure does not gets finished. On an average, this will not be taking more than 20 minutes. If you are using SSD drive then, this will be consuming more lesser time duration.
Restart your PC or laptop to make changes make in the registry of your Windows 10 OS.
Solution #2: Attempt a Proper Windows 10 Installation
If the first measures fail to resolve the Outlook can't send emails after upgrading to Windows 10 problem then, users need to perform a proper installation of Windows 10 OS. Make sure that before doing re-installation procedure, you have to take backup of core files. If users are not aware of proper installation then, it is highly suggested that they should ask their technician to attempt this task. Because if a single thing goes wrong then, it will badly impact the system for no reason.
Solution #3: Switch to Some Other Email Client
The last solution left is to switch to some another email application for the mailing and personal information management purpose. The internet market is flooded with a bulk of free email clients, which users can utilize for mailing purpose. Few of them are IncrediMail, Mozilla Thunderbird, Opera Mail, eM Clients, etc. This is the last solution, which we can approach reader because no other approach is left to fix the problem.
Conclusion
The blog describes all possible tips and tricks to fix Outlook can't send emails after upgrading to Windows 10 error. If users think that they are unable to fix the problem then, they need to opt to their administrator. Don't try to do something of which you are totally unaware.