Troubleshoot Outlook Send Receive Error 0x800ccc0e – Causes & Resolutions
admin | December 1st, 2017 | Windows Outlook
Causes and Resolutions of Outlook Send Receive Error 0x800ccc0e
Fighting with an "error code Outlook 0x800ccc0e"? Do you know how to resolve it easily? Want a quick solution to fix this Outlook send receive error 0x800ccc0e? Read the blog to find the perfect manual solutions to get rid of this MS Outlook error.

In this technical world, everybody has a love-hate relationship with email services. Allegedly, these are our servant but, still, we peoples are slaves of it. When users require sending mass mail, offline access, flags, emailing clutter, rich content information etc., in such cases users only prefer best email services. The technological world provides us many email clients. Among various mail clients, Microsoft Outlook has its own place at the top of best email client list. This software fulfills mostly all of the mailing requirements of users. All its features work very smoothly when all Outlook settings are matching with their particular specifications. However, sometimes there may be some unknown disturbance in its setting of the server. This disturbance causes an error message like Outlook send receive error 0x800ccc0e. In this blog, we are focusing on causes and troubleshooting methods of this error.
Problem Description
The error occurs when users click on Send/Receive button and Outlook shows number of completed tasks. This will show that 2 of 3 tasks have completed and will also indicate an error message– "The connection to the server was interrupted. If this problem continues, contact your server administer or Internet service provider (ISP)".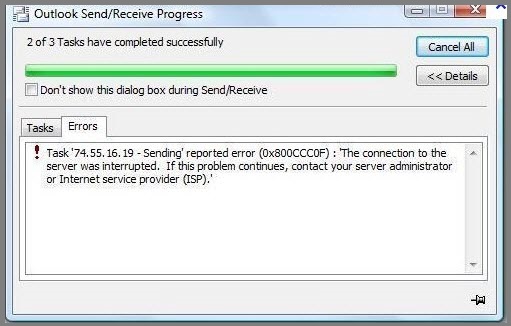 This Outlook send receive error 0x800ccc0e is the most common and probable error in this email program.
Causes for Outlook Send Receive 0x800ccc0e Error
Outlook 2013 send receive error occurs due to incorrect settings of the SMTP server. At the time of account configuration, few things might have gone wrong, which causes a problem at the time of exchanging messages. Apart from this, there are several reasons for Outlook error message 0x800ccc0e occurrence and some of them are following:
Internet Connection interruption–
It might be possible that there is some problem in the ongoing internet connection. Connection between the system and server might get inactive due to some unknown reason.
Suspicious Email Messages–
Microsoft Outlook comprises of few malicious emails within it, which causes different troubles like messages blocking while working. So, it is suggested to delete them regularly from mailbox in shortest time period.
Too Many Antivirus Programs–
Users download and install antivirus applications on machine, which gets in touch with the existing programs of the PC. Sometimes when antivirus tools work with Outlook, they stop it from performing the actual work.
Outlook.exe blocked from Firewall–
Sometimes firewall block Outlook.exe from internet accessing due to which messages sending error is arriving.
Troubleshooting Ways to Resolve Outlook Send Receive Error 0x800ccc0e Error
Now, question arises that how to get over from this error message and make application work normally? Don't worry this article is just for resolving this error message. Follow down written statements sequentially for problem resolution.
Note : SSL never works with 465 port number. First, disable SSL for port number 465 and try SSL port with 25 or 587 numbers.
Approach 1:
Open your Outlook account then, go to Tool menu, and hit Account Setting button.

In this account setting box, click on Email tab and double-click on configured Email Account.

In this Email account window, click on More Settings button.

Now another window pop up for internet email settings.
Click on Ongoing server tab >> Check the checkbox of Server requires authentication. At last, click on OK to update all changes.

Return to mailbox window and try to send the messages from configured Outlook account.
If the error 'Outlook send receive error 0x800ccc0e' is fixed then, no need to proceed further. Else, go to the next troubleshooting method.
Approach 2:
If the above solution didn't resolved the error code Outlook 0x800ccc0e, then follow the steps of the next approach carefully:
Open Outlook and go to Tool bar and click on Account Settings.

In account setting wizard, hit the Email tab and then click on Email Account.

Click on More Settings button of this email account window.

In internet email setting window, go to Advance tab >> Change server port no to 587 and click on OK.
Now, either try to send a new mail or refresh Send/receive option. This is done for the testing purpose that is your Outlook email client error resolved or not.
It is mandatory to configure Microsoft Outlook account in a correct way. If in case of Outlook send receive error 0x800ccc0e occurs then, users can use any of above-mentioned methods. Those methods will surely resolve this error message and after that, you can properly work with Outlook.