An identity in Mac Outlook 2011 is the set of data which includes the accounts, contacts, email messages, calendar, notes,tasks, categories, signatures, and rules. Mac Outlook 2016 imports Outlook for Mac 2011 identities, this process is a bit typically and is used while upgrading Outlook 2011 to Outlook 2016 for Mac.
To import these identities:
There you will have to select one from the given two options:
First option is: Import from here, it is the default location i.e.
(/Users/[username]/Documents/Microsoft User Data/Office 2011 Identities)
The second option is Import from another location, it will allow to browse the Mac for the identity.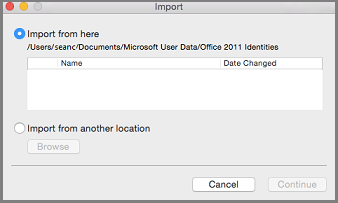 All the imported items including the accounts, emails, contacts, calendars, tasks, notes,signatures, rules, and categories will appear in the same location as they did in Outlook for Mac 2011.